From guest writer Mark ~ Headed to Indianapolis for the Indy 500 or a conference? Looking for something else to do besides sit through another boring PowerPoint presentation? If you're looking for other activities in town you're in luck because there are many unique things to do in Indianapolis.
Indianapolis Museum of Art
The Indianapolis Museum of Art boasts a collection that spans the world and millennia and includes over 100 acres of nature park and estate gardens. The Virginia B. Fairbanks Art & Nature Park: 100 Acres is exactly what the name implies and Oldfields  Lilly House & Gardens is a historic 26-acre estate filled with gardens, fountains & statuary. You can spend a whole afternoon wandering the grounds without ever making it inside the museum.
Grab some barbecue from Hank's Smoked Brisket down the road on MLK Drive and have an impromptu picnic. Best part is that general admission to the museum and the grounds is free.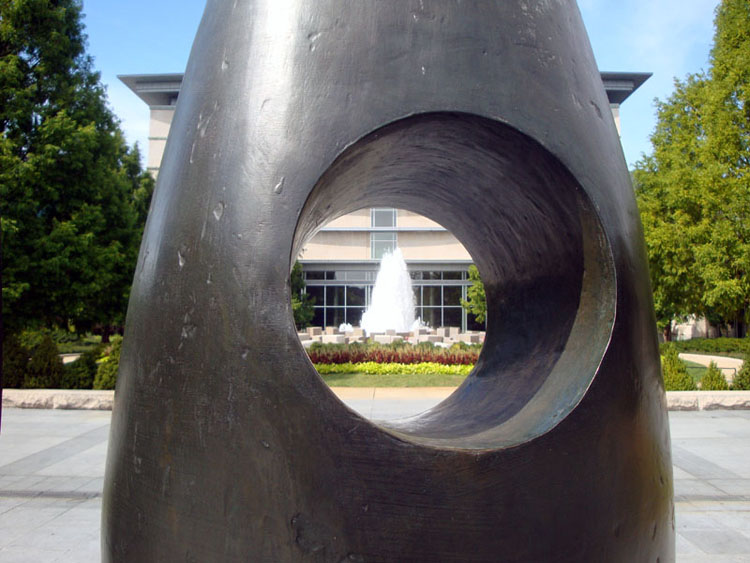 See the "reel" life Hoosiers at Butler University's Hinkle Fieldhouse
Butler University is located near the Indianapolis Museum of Art and is a great place to wander around. Stop by the Holcomb Observatory & Planetarium and take a gander through their telescope. (Yes, we still say gander in Indiana.)
Go see a basketball game at Hinkle Fieldhouse home of the Butler University Bulldogs, decades of Indiana high school basketball history and the climactic scene of the movie Hoosiers. Hinkle Fieldhouse is to basketball what Lambeau Field is to football and Fenway Park is to baseball. Hyperbole? Not to Hoosier basketball fans.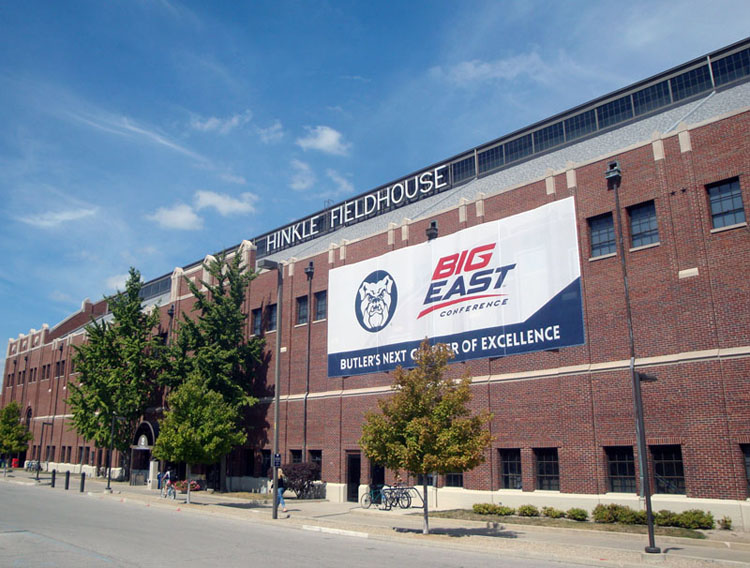 Try a Pork Tenderloin Sandwich
The word "tenderloin" is usually associated with beef except in Indiana where it refers to pork. (Okay, and San Francisco but that's not food related.) Indiana has been one of the top pork producing states since the 19th-Century. While other places took their pork to the smoker, we took ours to the fryer. The Indiana pork tenderloin sandwich features a cut of pork tenderloin pounded thin, breaded and fried (think schnitzel) and then served on a bun. Darn near every restaurant, diner and bar has one on the menu but not all are created equal. I'm not offering any favorites because I'm not starting an argument here, but a Google search will help you find one.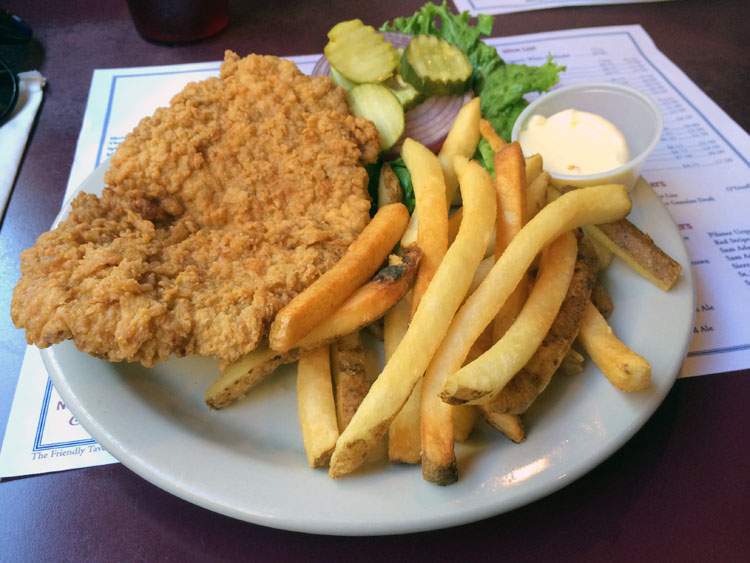 Gangsters and Presidents at Crown Hill Cemetery
Crown Hill Cemetery is one of the largest cemeteries in the United States. Its elevated vantage point offers great views of downtown. The wooded grounds create a park-like setting to stroll or ride a bike on the twenty miles of roads. It is home to a who's who of Indiana history including president Benjamin Harrison, Col. Eli Lilly (founder of the pharmaceutical company that bears his name), and Depression-era gangster John Dillinger.
Race Over to the Indianapolis Motor Speedway
The Indianapolis Motor Speedway is a monument to fast cars. If you've never been to a big time race the Indianapolis 500 is the one to attend. Tickets are available and affordable. Check out the Hall of Fame Museum (open year round) to see race cars from open-wheeled racing's glory days when speed, safety and sanity were pushed to, and in many cases beyond, the limit.
Take a Hike at White River State Park & Canal Walk
On the west side of downtown Indianapolis, White River State Park offers several attractions in a very small area, many of which are connected via the strollable Canal Walk. The Indiana State Museum, The Eiteljorg Museum of American Indians and Western Art and the Indiana Historical Society are all accessible via the Canal Walk.
Cross the pedestrian bridge over White River and visit the Indianapolis Zoo and White River Gardens. Catch an Indianapolis Indians game at Victory Field, a wonderful stadium to watch baseball. The Lawn at White River hosts a summer concert series. Traveling on the cheap? Pack a picnic and find a spot outside. You may not see the band, but you'll hear the whole show.  Just down University Boulevard is Carroll Stadium; home to the Indy Eleven, Indianapolis' entry in the North American Soccer League.
Beer Here
Indiana was once home to a thriving brewery industry (we are in the German Triangle after all) only to have it virtually wiped out by Prohibition. In the last twenty years Indianapolis has gone from having a couple of dedicated brew pubs to several brewers putting out many lines of quality beers. Sun King, Flat 12, Fountain Square, Bier, Broad Ripple Brewpub, Brugge Brasserie, Oaken Barrel, Triton, Planetary there are more, but that's a good start.
Tour Monument Circle and War Memorials
Like a smaller version of Washington, D.C., Indianapolis loves its war memorials. The Soldiers & Sailors Monument on Monument Circle is right in the middle of the original city plan.  Dedicated in 1902 the monument houses a Civil War museum and observation desk that offers a nice view of downtown. If you're feeling energetic you can climb the 331 stairs for free or pay $2.00 to take the elevator. A short walk north will take you to the Indiana World War Memorial Plaza and the American Legion Mall featuring more walkable green spaces with parks, fountains, monuments and memorials.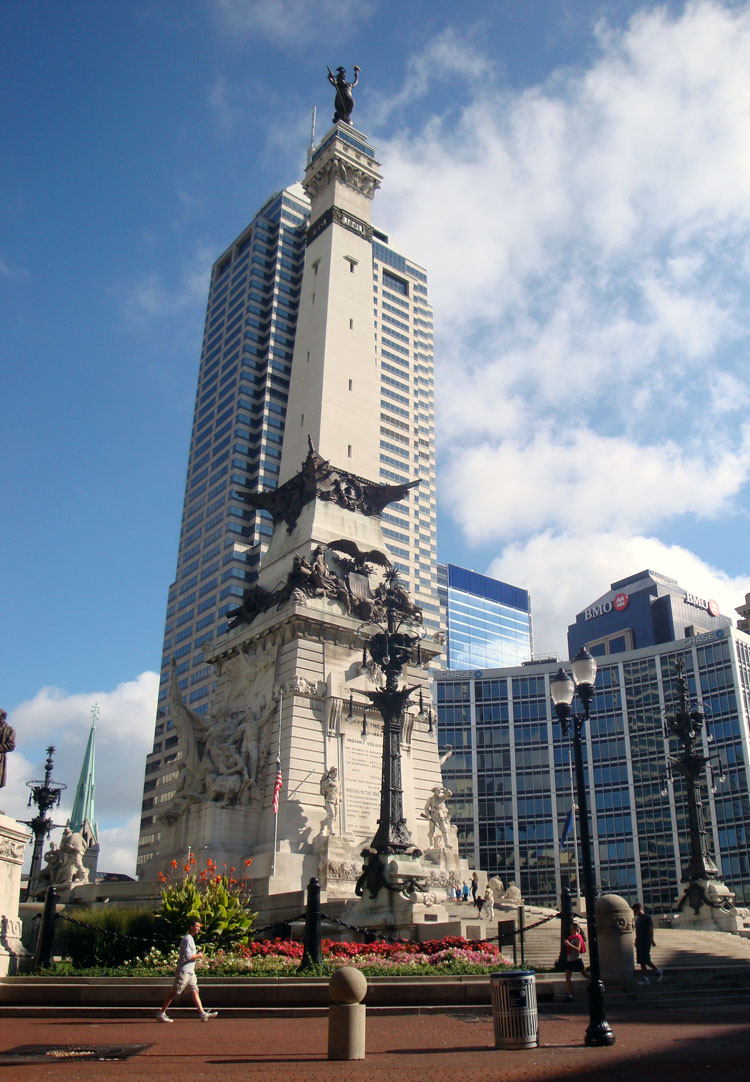 Bike the Indianapolis Cultural Trail
Six years in the works, the Indianapolis Cultural Trail is a network of bicycle and pedestrian paths that connect the various cultural districts of downtown Indianapolis allowing for quick and safe movement around the downtown area. It also features several installations of public art. Rent a bike for the day and explore downtown. Venture out to the Massachusetts Avenue & Fountain Square cultural districts. There are more than enough restaurants, bars and shops to keep you occupied.
Pin it!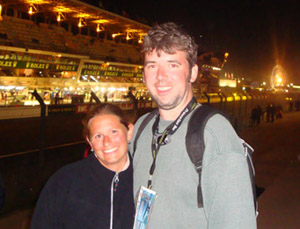 Guest writer Mark and his girlfriend Julie quit their jobs at the end of 2013 and embarked on a 12 month (hopefully longer) round-the-world backpacking trip. Their blog, The Time to Go Is Now, documents what led up to their decision, what they did to get ready for their trip, reports back from their travels, and any other random thoughts that occur along the way. Follow their journey on Facebook or Twitter.
What other places do you recommend seeing in Indianapolis?
SaveSave
SaveSave
SaveSave